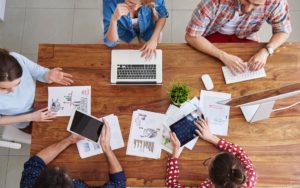 Meetings are a necessary element for keeping an organization informed, maintaining order and moving in the same direction. The more complex the organization, the higher the need for meetings. Yet, there may not be a more despised word in organizations. The lore of terrible and time wasting meetings is the fodder for cartoons and TV comedies. The disdain for meetings is so pervasive that the term "meeting hell" is common vocabulary across organizations.
The challenges of "Reduce meeting time" or "Improve meetings" are an excellent opportunity to ask questions about, and explore your organizations culture around meetings. A deep dive starting with a series of "why" questions may uncover opportunities to develop a more healthy meeting culture, save time and become more productive. Often we assume that things need to be a certain way, but if we take a different perspective, we find solutions that make our lives better.
TERLIBAT
Big Idea: Meetings
Essential Question: How can we improve our meetings?
Tantangan: Improve our meetings!
Contoh pedoman pertanyaan
Ini adalah hanya contoh pertanyaan kami mendorong Anda untuk mengajukan pertanyaan-pertanyaan pribadi dan kontekstual sebanyak mungkin.
Why are we meeting?
Why do we meet when we meet?
Do we really need to meet?
Can the meeting information be dispersed in a different way?
What is the structure of the meeting?
Is there a more efficient way to meet?
Does everyone understand the purpose of the meeting?
Are there clear goals?
Is there a clear organizational structure?
Is there a shared understanding of meeting norms?
Does everyone know their roles and responsibilities?
What are the best practices for meetings?
Research says?
Dll.
Setelah Anda melakukan brainstorming semua pertanyaan mengorganisir dan memprioritaskan mereka.
MENYELIDIKI
Membimbing kegiatan dan sumber daya
Ini adalah hanya satu set contoh kegiatan dan sumber daya dan peserta didik akan perlu untuk mengevaluasi kualitas konten. Mereka tidak diverifikasi atau selalu didukung, hanya contoh. Orang-orang yang Anda pilih harus dalam hubungan langsung ke pertanyaan spesifik membimbing dan konteks. Kegiatan dan sumber daya untuk orang dewasa, remaja dan anak-anak muda akan berbeda. Tujuannya adalah untuk mengembangkan solusi yang berarti sesuatu di komunitas Anda dan berkelanjutan.
Contoh kegiatan
Survey meeting attendees to collect the general thoughs about meetings.
Do a meeting schedule audit to identify how many meetings are scheduled each month, the people involved and the time spent.
Do a meeting content/agenda audit to see what information can be dispersed in different or asynchronously.
Review the research on best meeting practices.
Dll.
Contoh sumber daya
Dll.
Sintesis
Menggunakan hasil penelitian dari penyelidikan Anda mengembangkan sebuah sintesis yang menunjukkan pemahaman yang jelas tentang tantangan. Untuk bantuan dengan menciptakan sebuah sintesis Jelajahi sumber daya ini.
Prototipe solusi -menggunakan sintesis penelitian Anda membuat beberapa ide untuk solusi dan meninjau masing-masing untuk memastikan bahwa riset Anda mendukungnya. Berbagi prototipe dengan berbagai pemangku kepentingan dan mendapatkan umpan balik.
Solusi -dengan umpan balik dari para pemangku kepentingan mengembangkan salah satu solusi yang telah yang paling potensial untuk sukses.
UNDANG-UNDANG
Menerapkan -mengembangkan rencana untuk menerapkan solusi dengan stakeholder dan mengumpulkan data tentang dampak.
Evaluasi -menggunakan tindakan kuantitatif dan kualitatif menentukan jika solusi yang valid dan apa yang bisa diperbaiki.
MENCERMINKAN, DOKUMEN, DAN BERBAGI
Seluruh pengalaman mengambil waktu untuk mendokumentasikan peristiwa dan merenungkan apa yang terjadi untuk membangun pengetahuan dan mengidentifikasi masa depan pertanyaan.
Berbagi apa yang Anda pelajari dengan masyarakat lokal Anda dan dunia. Gunakan #CBLWorld di media sosial.